Headed by Sumi Sebastian Senior Scientific Officer (i/c), Ph-+91 477 2258480
(Bio-data)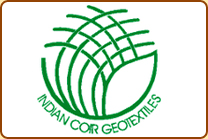 The research wing of the Coir Board was formed in 1955 as per the recommendation of the committee for Research and Statistics of Coir Board and the Central Coir Research Institute started functioning in 1959. A wet processing laboratory was set up in the initial stage and subsequently it was bifurcated into the modern Dye House and Chemistry & Testing Laboratory in 1984. The Dye House has been conducting bulk dyeing/ bleaching of coir fibre/ yarn by mechanical steam dyeing process. The polymer technology, geo textiles, Chemistry & Testing Laboratory is housed in the Research Block of CCRI and carries out R&D studies to continually improving the quality of dyeing, bleaching, shade matching through experiment & trial investigations by adopting appropriate chemicals and technology . The Department is  instrumental in evolving shade cards using Direct and Reactive dyes and also from natural dyes. The department has recently developed a Pantone Shade Card on colours for coir.  The Department evolved a low cost bleaching technique for the benefit of the coir industry and engaged in development of a silicate free Hydrogen Peroxide bleaching. It caters to the requirements of the coir trade for shade matching by conducting lab level dyeing. It is also involved in imparting softness to coir fibre, fire retardency and water repellency to coir and coir products. The Physical Testing Laboratory has been recognized by Bureau of Indian Standards for testing of coir and coir products as per IS standards. It has set up an ASTM laboratory for testing the characteristics of Coir Bhoovastra (geo textiles) as per ASTM standards.  Apart from that the lab conducts tests the additives such as fillers and NR latex.  Innovative coir products have been developed using coir-polymer composites such as moulded and injection moulded products.  The lab has successfully developed the coir fibre reinforced green injection moulded PP chairs, and is in the process of developing coir composites boards using natural resins and glues which can be used in the building/construction industries.  An important project underway in the Department is to develop coir cushioning with specifications as per the Railway Research Design and Standards Organization (RDSO) Lucknow.  This will lead to re introduction of coir cushioning in the railway carriages in Indian Railways.
ACTIVITIES
Prepare recipes for dyeing to match shades against request from coir entrepreneurs
Prepare shade cards depicting recipe of each shade suitable to coir
Test the suitability of dye stuffs for dyeing of coir, yarn and allied fibres
Assess the efficacy of auxiliary chemicals for bleaching, dyeing and finishing of coir
Undertake bulk dyeing/bleaching and dyeing of coir/jute/sisal in the mechanized Dye House
Formulate standards for Coir and Coir Products
Revise specification of standards
Test the characteristics of Coir Geo-textiles as per ASTM/BIS standards
Test the light fastness of Coir/Other allied materials as per AATCC/BIS stds.
Test the quality parameters of Coir & Coir products as per BIS specification
Develop innovative coir polyester moulded fancy decorative items
Develop innovative injection moulded ecofriendly coir chairs
Develop Eco category ecofriendly coir composite boards for building & interiors
Develop water proof Coir Plastic Composite (CPC) for diversified end uses
Collaborative R&D projects for establishing the use of coir geo textiles in environmental applications particularly reinforcement of rural roads
SERVICES
Extending the facilities in the department and dye house for bleaching, dyeing & drying of coir/allied fibres/yarn in bulk quantities
Testing of Coir , Fibre, Yarn, Rubberised Coir, Coir Geo-textiles and other coir products
Evaluation of suitability of dyes and auxiliary chemicals on coir and conduct shade matching by lab dyeing and bleaching
Assist and guide Project Students in undertaking their project works on coir
Assist on the spot dyeing/bleaching of coir
Conduct stencilling with new dyes provided by manufacturers of dye stuffs
Impart training in Dyeing/ Bleaching / Testing of Coir
Training on coir polyester moulding