Microbiology Department, Pilot Scale Laboratory, CCRI, Kalavoor, Alappuzha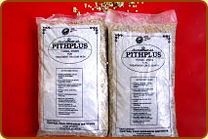 Coir Board in collaboration with the Tamil Nadu Agricultural University has developed the technology for converting Coir pith into organic manure. PITHPLUS as spawn of edible mushroom Pleurotus sajor caju speeds up the decomposition process and leads to 42% reduction in volume of coir pith. Application of coir pith manure improves the physical and chemical properties of the soil and enhances the yield of crops
Method of Composting( 1 Ton)
1. Select a sheltered place preferably under a tree or under coconut palm thatching to protect the heap from direct sun and heavy rain
2. Spread uniformly 100 kg. of coir pith in an area of 5 m X 3 m.
3. Apply one packet PITHPLUS (400 gm) evenly over it
4. Cover with 100 kg. coir pith and apply 1 kg. urea evenly over it.
5. Spread 100 kg. coir pith again
6. Repeat the sandwiching process till the spreading of 1 ton Coirpith and the heap reaches one meter in height
7. Moisten the heap daily by sprinkling sufficient water but do not flood it.
8. Allow the heap to decompose for 20 - 25 days
1 MT Coir pith + 2 kg. PITHPLUS + 5 kg. Urea 200% moisture 30 days = C-POM